Okay. So I have a confession of sorts. I hoard socks. I can't have enough pairs of crazy-prints or fuzzy fleece ones.
You know what the alternative is? Cold feet. Ick. I have never stood for my feet being cold. They should be warm, toasty, and kicking it up in style.
So one of these years, my friends will believe me when I tell them that all I really want for Christmas is socks, because as you can see, I'm serious.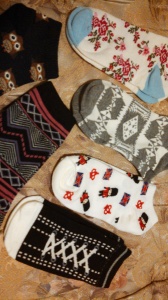 These are the babies I'm wearing today.