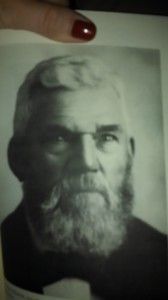 I really enjoy doing a character sketch of the people in each of my stories, so people can get a feel for the major players in the plot. In The Short Life of Sparrows, Murdoch is the head coven leader. He's a bearded old man with an intimidating stare and unmovable convictions, who must make many hard decisions. I knew before I ever started this book, that my great, great, great, great grandfather John Murray Murdoch would be the inspiration for Murdoch.
Now this is a fictional book, and Murdoch is only based on JMM as a personal nod. I loved reading stories about him as a kid, and it was pretty cool to grow up in the city that he settled in.
My grandfather left Scotland with his wife and their two small children for America in 1852. What always struck me most among all of the amazing stories about this man, was the story of losing his two small children on a steamer along the banks of the Mississippi River. I won't go into all of the terrifying details, because the circumstances surrounding his three year old daughter's burial are unsettling. If you're interested in JMM, you can read Scottish Sheperd, The Life and Times of John Murray Murdoch, Utah Pioneer by Kenneth W. Merrell. All I will say in regards to how he lost his children, is it takes the ultimate kind of bravery to suffer the loss of your children in a strange place and spare your wife from the further trauma of knowing just how cruel some people could be to desperate immigrants.
In The Short Life of Sparrows, Murdoch faces some overwhelming circumstances. He's surrounded by Nightbloods who don't seem to share the same moral compass. But Murdoch has this steely resolve and undeniable goodness beneath his gruff exterior. That's my tribute to J.M.M.
I'd like to share my second favorite paragraph regarding Murdoch in the story. I wish I could post the scene I love most with this coven Elder, but I can't due to spoilers.
"So no, I can't actually speak as to why we are a cursed people, but we certainly are. Even still there are those who suggest we put someone to the flame, to see if it will shatter this infection of a curse that keeps Seers from their sleep. But Murdoch always ends the conversation with a hand in the air to quiet our coven. As he puts it, our souls may be consumed by shadows, but that doesn't mean we have to behave like monsters."