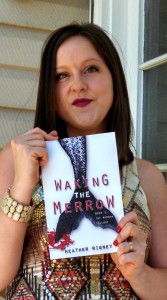 We indie writers cannot do what we do without the support of other awesome writers. Heather Rigney is one of those, one of those indie writers who cheers those around her and does what she can to support their craft. But I'm not blogging about this book solely because Heather is a great friend. No, Heather Rigney has a talent with words. Really.
I know you hear plugs from authors for other authors all of the time, but I can honestly say that she has some wicked writing chops. I'm so excited for the release of her first book, Waking The Merrow, which is based on her short story Mermaids Are Not Nice, from a collection of stories in the book Dive.
When I read it, I laughed, snorted, and swiped Kindle pages like a madman. It was gritty, hilarious, and had the most unlikely but interesting of heroines.
So pick this one up, guys. I am saving it for my upcoming vacation, when I have a pool chair and some sunshine behind me. I'm that confident that it's not to be missed. Check it out at here, at Goodreads or Amazon.